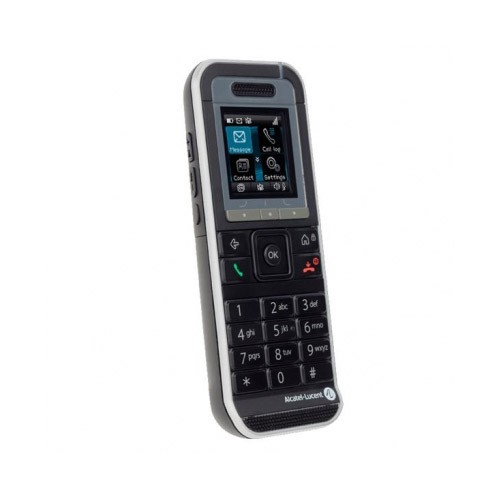 Alcatel Lucent 8232S DECT Handset
Alcatel-Lucent 8232S DECT Handset is a user-friendly and cost-effective reliable voice communication device that caters to the evolving needs of business environments, along with the need for mobility. Considered to be a practical and convenient solution, this excellent DECT handset delivers high compatibility with existing Alcatel-Lucent DECT base stations, enhancing usability. It offers value-added voice services like multiline management and dial-by-name feature in all of the Alcatel-Lucent communication servers.
Alcatel-Lucent 8232S DECT Handset has been structured to be used together with the Alcatel-Lucent 4070 Base Station and support DECT connectivity in the TDM networks. It can also be connected to IP networks deployed together with the Alcatel-Lucent 4080 IP-DECT Base Station. This handset has a large screen and an alarm button, which can contribute to user convenience. To add to the device's user-friendliness, it also has an intuitive interface with four-way navigation that users can make the most of when completing their call handling and management tasks.
With a display and keypad backlight and an integrated antenna, this Alcatel-Lucent 8232S DECT Handset has several connections and optional features and functions. The former pertains to the micro USB connectivity to PC and Digital and IP DECT Connectivity. The latter on the other hand pertains to the optional Bluetooth headset and optional notification and location-based services.
More Details:
Brand: Alcatel-Lucent
Product Type: DECT Handset
Colour: Black
Condition: Brand New
Inclusion: Battery
Note: Power supply and charger are not included
Alcatel-Lucent 8232S DECT Handset Outstanding Features
Supports DECT Connectivity
Large Screen
Alarm Button
Intuitive Interface with Four-way Navigator
Micro-USB Connectivity to PC
Digital and IP Connectivity
Bluetooth Headset Option
Optional Notification and Location-based Services
Display and Keypad Backlight
Integrated Antenna
Optional Accessories:

Belt Clip
Desktop Charger
Europe/Worldwide Power Supply
Swivel Clip
Bluetooth Headset
Dual Charger
Spare Battery/Spare Belt Clip
Vertical/Horizontal Pouch

Lightweight and Ergonomic Design
1.4-inch 128 x 128 pixels TFT Coloured Display
Hands-free Operation
Microphone Mute
Antenna Diversity
3.5 mm Headset Jack
Direct Micro USB Charging