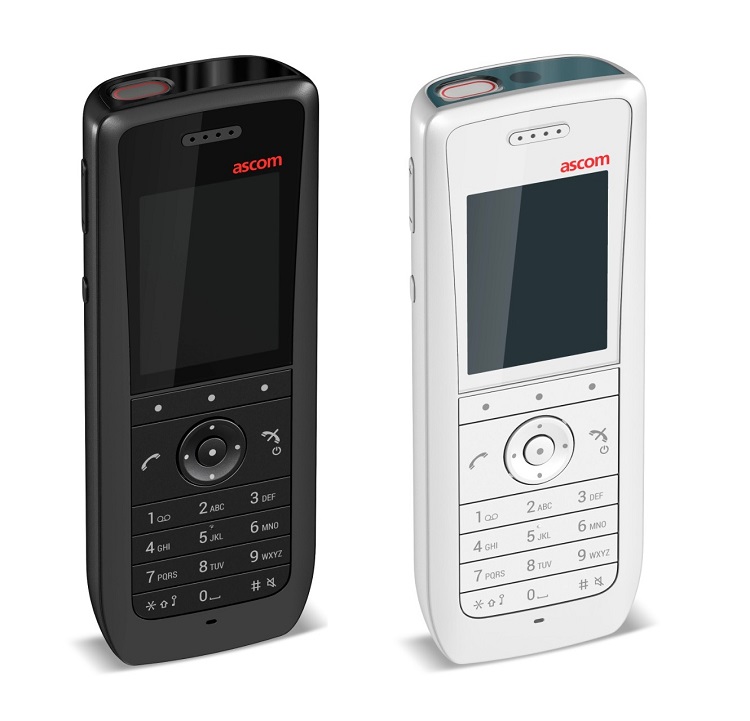 Ascom D63 Messenger DECT Phone- Black
Ascom D63 Messenger DECT Phone- Black is an outstanding enterprise-grade communication device that features wideband audio quality and professional messaging function perfect for professional and work-related usage. This robust DECT phone has Bluetooth function for headset connectivity and 3.5 mm headset connector for another option for the connection. With on-site positioning and personal alarm all rolled in to one powerful device, this incredible DECT handset has IP44 classified design and GAP/CAP compliant.
This Ascom D63 Messenger DECT Phone- Black is disinfection-ready that offers enhanced DECT security and PTT (push to talk), with an upgradeable license and 18 default languages. Some of the personal alarm options that the device offers are automatic call after alarm, ALS (Acoustic Location Signal), and push button alarm. Its location options on the other hand are inclusive of intra-red (IR) location (HW option), DECT beacon location (license option), and base station location.
More Details:
Brand: Ascom
Product Type: DECT Phone
Colour: Black
Condition: Brand New
Talk Time: 20 Hours
Standby Time: 240 Hours
Charging Time: Less than 4 Hours
Dimensions: 137 x 52 x 21 mm (H x W x D)
Weight: 135 g (Including battery & clip)
20 Outstanding Features of Ascom D63 Messenger DECT Phone
Wideband Audio Quality
Professional Messaging Feature
Bluetooth Connectivity
On-site Positioning: Base Station Location, DECT Beacon Location, & Infra-red (IR) Location
Personal Alarm: Push Button Alarm, Acoustic Location Signal (ALS), & Automatic Call After Alarm
Robust DECT Handset
3.5 mm Headset Connector
IP44 Classified Design
Enterprise-grade Voice Quality
Push to Talk (PTT)
Disinfection-ready
Enhanced DECT Security
GAP/CAP Compliant
Upgradeable by License
18 Default Languages + 1 Customisable
Colour Options: Black and White
240 x 320 pixels TFT White Display
LED Backlighting
20 Hours Talk Time & 240 Hours Standby Time
Less than 4 Hours of Recharging Time