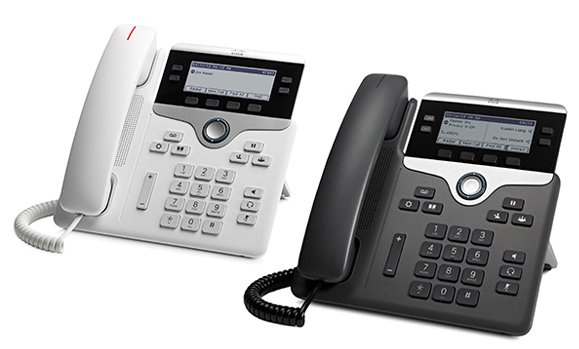 Cisco 7841 IP Phone
The Cisco 7841 IP Phone is an ergonomically structured communication device that showcases secured encrypted communications and "always-on" reliability. This innovative phone is integrated with advanced IP telephony features, providing users with fully features voice communication experience that can help them improve in their call handling and management results. And delivering crystal clear wideband audio performance, this device is also affordable and easy to use, excellent for companies and organisations.
Cisco 7841 IP Phone is excellent for all sizes of business, delivering highly cost-effective and secured voice communications. To be specific, the device is perfect for users with moderate active voice communication needs, including managers and administrative staff. It has four programmable line/feature keys, which allows users to customise buttons depending the ones they most often use. It also offers flexible deployment options, including the following:
Cisco On-premises ● Third-party Call Control ● Webex Calling ● Hosted
Integrated with high resolution and graphical greyscale display, this Cisco 7841 IP Phone helps users to view information better that can help them in their call handling tasks. With built-in speakerphone, the device delivers users freedom to move around while making sure to be connected despite the distance. Hands-free communication that can be experienced from using this device will help users feel at more ease and have more space to move around even while working. And in addition to this, it also has dedicated fixed keys to improve efficiency in easy and excellent communications.
More Details:
Brand: Cisco
Product Type: IP Telephone
Colour: Black/White
Condition: Refurbished
15 Cisco 7841 IP Phone Features You Should Know about
Attractive Ergonomic Design
"Always-on" Reliability
Secured Encrypted Communications
4-line Programmable Feature Keys
High-resolution & Graphical Greyscale Display
Dedicated Fixed Keys
Built-in Speakerphone
Wideband Enhanced Audio Operation
On-premises, Hosted, &Webex Calling
Power over Ethernet (PoE) Class 1
Cisco EnergyWise
Cisco Expressway
Integrated IEEE 10/100/1000 Switch
Cisco Webex Phone OS
Full Duplex Speakerphone