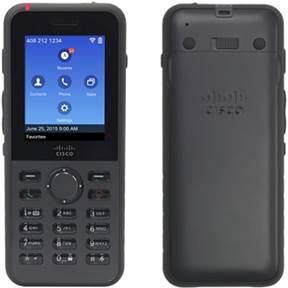 Cisco CP-8821 Wireless IP Phone
Cisco CP-8821 Wireless IP Phone is a high quality ruggedized and resilient wireless communication device that showcases secured 802.11 wireless LAN handset. Cost-effective and excellently-structured, this phone offers comprehensive Voice over Wireless LAN or VoWLAN communications that is perfect for workers who operate in a more rigorous workplace and industrial settings, including the following:
Mobile In-campus Worker ● Nurses & Doctors in Healthcare ● Operations & Engineering Staff in Manufacturing ● Customer Representatives in Retails ● Service Staff in Hospitality ● Workers on Rigs in Oil & Chemical Industries
This Cisco CP-8821 Wireless IP Phone is lightweight and sleek despite having a hardened design. Ingress Protection standard (IP67) rated, this wireless phone is protected against water, splash, and dust. MIL-STD-810G tested, it has shock resistance and avoids breakage even when dropped to up to 5 feet or 1.5 metre of height. The device simplifies configuration management and enhances security, embedded with stronger encryption and supported for policy enablement and certificate management.
Cisco CP-8821 Wireless IP Phone has a larger and higher-resolution coloured display that shows important call details, providing better user experience.It supports wide variety of features for security, QoS/Quality of Service, and Enhanced Voice Communications. With built-in full-duplex speakerphone, it is able to provide high quality hands-free communications and exceptional HD (High Definition) Voice Quality.
More Details:
Brand: Cisco
Product Type: Wireless IP Phone
Colour: Black
Condition: Brand New
Talk Time: 9.5 Hours
Headset Support: Bluetooth 3.0 Headsets & 3.5 mm Headphone Jack
Note: Full Suite of Accessories can be bought separately
Cisco CP-8821 Wireless IP Phone Top-notch Features
Secured 802.11 Wireless LAN Operation
Comprehensive Voice over Wireless LAN Communications
Excellent Industrial Settings
Ingress Protection Standard (IP67) Rated
Ruggedised, Resilient, & Dust-protected
Lightweight & Sleek Design
MIL-STD-810G Tested
Shock Residence: 5 Feet/1.5 metres
2.4-inch (6 m) Large & Coloured 240 x 320 pixels Display
High Definition (HD) Voice Quality
Built-in Full Duplex Speakerphone
Third-party Bluetooth 3.0 Headsets
3.5 mm Headphone Jack
Applications Key: XML Applications Access
Talk Time: 9.5 Hours (Battery Life)
Mobile VoIP Communications