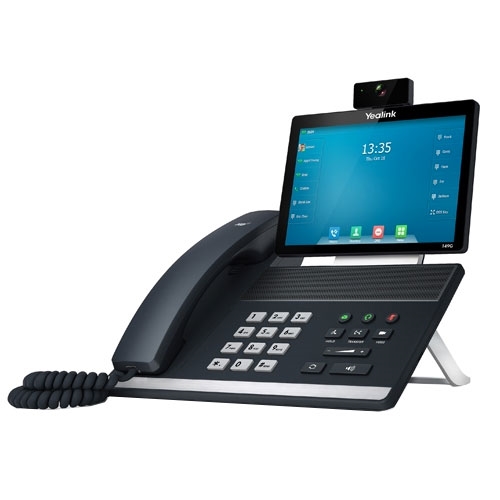 Yealink SIP-T49G Video IP Phone
The Yealink SIP-T49G Video IP Phone is an innovative video collaboration phone that showcases high definition (HD) audio and video quality, along with large 8-inch 1280 x 800 LCD touch screen that shows important details that could help in the user's call handling and management tasks. These features and functions make it perfect for the following types of users:
Business Executives ● Teleworkers ● Employees ● Business Partners ● Key Stakeholders ● Customers ● Small Businesses
Yealink SIP-T49G Video IP Phone is an incredible video IP phone perfect for users in need of a simple and basic desktop-based video collaboration solution. This communication device has been structured with an elegant design coupled with the simplicity and user-friendliness of the functions integrated in the device. It has dual Gigabit ports, 29 DSS keys, and several connectivity, including HDMI, USB, Wi-Fi, and Bluetooth.
Yealink SIP-T49G Video IP Phone offers users with several advantages when it is used, including seamless and efficient collaboration, high quality HDMI output and media exchanges, faster fata transmission and improved productivity.
More Details:
Brand: Yealink
Product Type: Video IP Phone
Colour: Black
Condition: Brand New
Compatibility: Bluetooth 4.0
Power Adapter: AC 100-240 V & DC 12V/2A Output
Note: Power adapter included
Standard Yealink SIP-T49G Video IP Phone Features
8-inch 1280 x 800 Coloured Touch Screen
Dual Gigabit Ports
USB Connectivity (2.0 Compliant)
28 DSS Keys
16 Lines
HD Voice Quality
Full HD 1080p30 Video Call Quality
Bluetooth 4.0 Connectivity
Built-in Wi-Fi Connectivity
Quality HDMI Output
Centralised Notification Hub
Advanced Control Centre
Call Recording
2 Megapixel HD Camera with Privacy Shutter
3-way Video Conferencing
5-way Mixed Audio/Video Conferencing