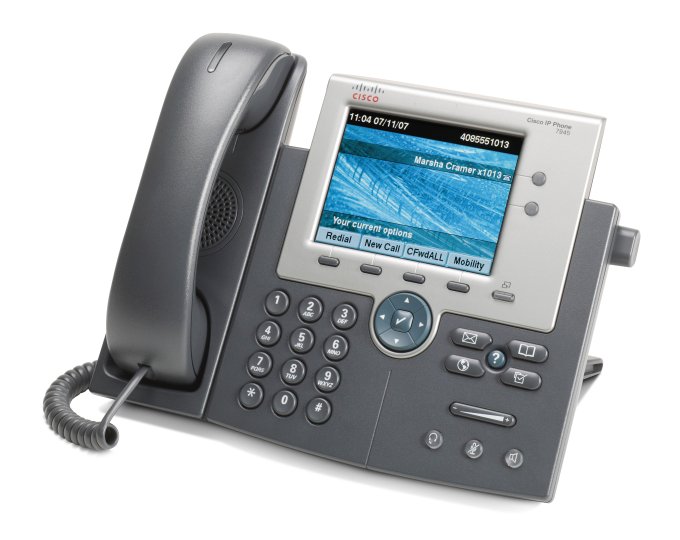 Cisco 7945G Unified IP Phone
Cisco 7945G Unified IP Phone has been structured to be integrated and installed in an existing system in an effort to improve and enhance its capabilities. And since it has been designed to accommodate more updates and growth in the future, this feature of the phone serves as a great investment for users and corporations. Regular software updates and firmware changes can be conducted easily in the device, keeping up with the latest requirements of corporations.
This Cisco 7945G Unified IP Phone offers full duplex speakerphone along with acoustic echo cancellation, ensuring that users get to experience excellent audio quality and crystal clear conversations. Embedded with a dedicated headset port, this IP phone also delivers incredible convenience for users, especially since there will be no need for users to use a separate headset amplifier and so can be used even if the handset remains in the cradle. In addition to that, it also offers excellent flexibility in using the applications and features in the phone, including Directory, Messages, Information, and Services.
Cisco 7945G Unified IP Phone provides users with 24 defined user-selectable ring tones that they can choose from. Demonstrating the latest advancements in VoIP telephony, the device doffers direct access to two (2) telephone lines and four (4) interactive soft keys.
More Details:
Brand: Cisco
Product Type: IP Telephone
Colour: Dark Grey
Condition: Refurbished
Dimensions: 26.7 x 15.2 x 20.3 cm (W x D x H) (Base)
Weight: 1.6 kg
Cisco 7945G Unified IP Phone Awesome Features
High-fidelity Wideband Audio Support
Backlit Coloured Display
Integrated Gigabit Ethernet Port
Direct Access to Two (2) Telephone Lines
Four (4) Interactive soft Keys
Intuitive Four-way (Plus Select Key) Navigation Cluster
Hands-free Speakerphone Operation
Cisco Unified Communications Solutions
VoIP Telephony
Accommodates Extensible Markup Language (XML) Applications
Built-in Headset Connection
Dynamic Feature
5-inch 16 bit (320 x 240 pixels) TFT Coloured Display
2x RJ45 10/100/1000 Base-T
Full Duplex Speakerphone with Acoustic Echo Cancellation
Dedicated Headset Port
More than 24 Defined User-selectable Ring Tones
Colour Options: Grey & Silver
Table-top Placing and Wall-mountable